In early February 2022, Nanjing KATI Medical Technology Co., Ltd. (hereinafter referred to as Nanjing KATI), a new domestic solid tumor CAR-T cell therapy company, completed a total of more than 70 million ¥ in A+ round of financing. This round of financing was jointly completed by Nanjing Chengyi Investment and Joint Road Group, Suzhou Guanya Investment and Haihui Investment. This round of financing will be mainly used to promote the IND application of KATI Medical's leading product.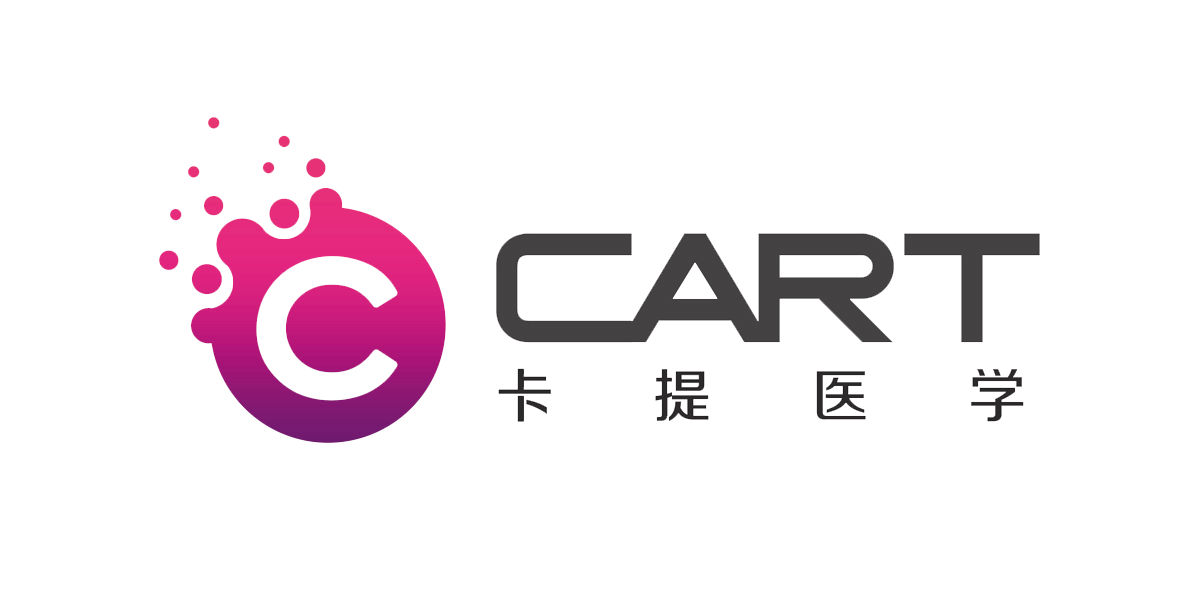 Founded in 2017, Nanjing KATI is headquartered in Nanjing Biopharmaceutical Valley, National Jiangbei New Area. It is a key gene and life health enterprise and a national high-tech innovation enterprise in Jiangbei New Area. Nanjing KATI focuses on the development of novel CAR-T cells for solid tumors.
Focusing on the solid tumor microenvironment, the proprietary technology platform has significant potential
Nanjing KATI was founded by Dr. Wang Enxiu, a core member of the Carl June team at the University of Pennsylvania. The company's core leadership team come from top institutions such as the Chinese Academy of Sciences, Tsinghua Union Medical College, and the MD Anderson Cancer Center,and have rich experience and high professionalism in Operation and other aspects. Dr. Wang has achieved breakthrough results in the flexible activation design of CAR, and the core patents have been authorized by European, American and Chinese.
CAR-T cells therapy currently show significant efficacy in the clinical treatment of hematological tumors, but most of the current CAR-T cells have poor efficacy against solid tumors. Dr. Wang pointed out that this is mainly due to the structural design of CAR. The microenvironment of solid tumors is more complex than that of hematological tumors, and traditional CARs are difficult to achieve clinical efficacy due to the lack of technological innovation. To overcome this demand and pain point,
Nanjing KATI focused on designing a CAR structure for the solid tumor microenvironment and independently developed a novel DAP-CAR technology platform. The DAP-CAR can efficiently improve the adaptability of the CAR-T cell tumor microenvironment, reduce clinical side effects and have good durability.
Relying on its own technology platform,Nanjing KATI has developed a series of pipelines with independent intellectual property rights, including KT030, KT032, KT095, KT081 and KT051.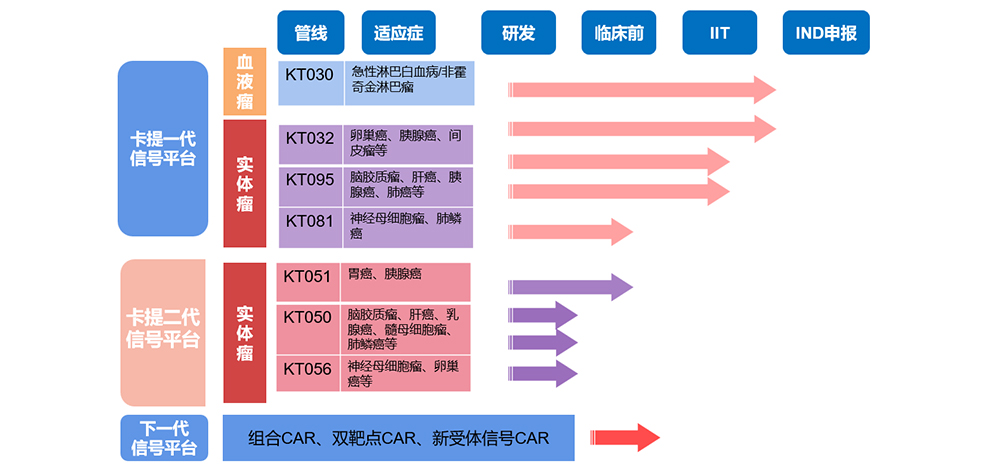 KT032 is CAR-T cell product targeting Mesothelin. Early IIT data showed that in 8 patients with Mesothelin-positive solid tumors (one was pancreatic cancer, the rest were ovarian cancer), the response after treatment was PR (4/7), SD (3/7), the overall response rate (ORR) was 57.5%, and disease control rate (DCR) was 100%. In addition, median progression-free survival was 7 months, and longest progression-free survival was 17 months; median survival was 11.625 months, and longest survival was 17 months.
Nanjing KATI is currently carrying out in-depth cooperation with top domestic hospitals, and the number of cases enrolled in the trial continues to increase. For now, we keep forming a trial progress of one case recovery, one case preparation, one blood collection.
Dr. Wang Enxiu, founder of Katy Medicine, said: "Our vision is to be the most innovative cell therapy company in China. At present, Nanjing KATI has built a third-generation signaling platform for the CAR, which can realize any TAAs of different indications. In the future, we will use our own innovative platform to develop more pipelines and achieve more diversified product transformation."
Wang Yuan, a partner from Nanjing Chengyi Investment, said: "The founder of Nanjing KATI has made significant contributions to the launch of the world's first CAR-T cell therapy in the cooperation between Penn and Novartis, and has more than ten years of experience in the field of CAR-T technology. With years of experience and accumulation, we are a trustworthy partner. In addition, we attach great importance to Nanjing KATI's own technology platform, based on which Nanjing KATI can build more pipelines for different solid tumors."
Jiang Yu, Investment Director of Qiandao Investment Fund, said: "There are many opportunities in the field of gene and cell therapy. CAR-T has shown good clinical efficacy in the treatment of hematological cancers, and there is still room for breakthroughs in solid tumors. We recognize Nanjing KATI and its founder Dr. Wang's accumulation and experience in the CAR-T field, and are optimistic about the company's product pipeline layout and prospects. "
About Chengyi Investment
Chengyi Investment was founded in 2015, based in Nanjing and radiating the Yangtze River Delta region. Focus on early-stage and growth-stage equity investment and value-added services, with a core focus on biomedicine and technological innovation. At present, the scale of Chengyi Investment Management Fund is nearly 2 billion ¥. In the field of biomedicine, it has invested in a number of outstanding companies representing the future development direction, including Zhonghui Bio, Boaoxin Bio, and Kewang Pharmaceutical. In addition to capital assistance, Chengyi Investment also provides all-round and multi-level support for each invested company to promote enterprise innovation and growth, so that they will eventually develop into industry leaders, and beneficially promote industrial transformation and social progress.
About Main Road Group
Founded in 2011, Main Road Group adheres to the concept of "technology empowers finance, financial service industry, and industry serves the motherland", deeply participates in China's economic development and industrial upgrading, and is committed to becoming a comprehensive holding group that leads innovation with technology and serves the real economy. Main Road focuses on equity investment, industrial investment, special opportunity investment and other asset management and investment businesses. The group owns Main Road Investment Fund Management Co., Ltd., which focuses on medicine and medical technology, advanced manufacturing, and new energy,China Emerging Asset Management Co., Ltd. and other member companies. Main Road's pharmaceutical and medical investment focuses on the layout of innovative drugs, in vitro diagnostics, innovative medical devices, medical services and technology.
About Suzhou Guanya Investment
Suzhou Guanfengyu Venture Capital Center (Limited Partnership) is a private equity investment fund managed by Guanya Investment. Guanya Investment is established by professionals with senior professional background, work experience and independent judgment. Guanya Investment has rich experience and accumulation of resources in the fields of equipment, semiconductors and new energy. Guided by the needs of industrial development, based on hard-core technology investment, and relying on rich industrial resources, the company continuously explores and cultivates outstanding innovative enterprises with growth potential, creates long-term value for investors, and contributes to the growth of innovative enterprises.
About Haihui Investment
Founded in 2007, Haihui Investment is headquartered in Guangzhou. It is the first venture capital fund in Guangzhou that has obtained national record management. It has long been a venture capital institution (VC) focused on start-ups. Boyun New Materials, Gaolan Co., Ltd., Lushan New Materials and other dozens of successful cases of IPO exits as early investors. The accumulated assets of its managed funds are tens of billions dollars. For more than ten years, Haihui has received key support from the National Venture Capital Guiding Fund Project.