Nanjing KATI Medical Technology Co., Ltd. is a novel cell therapy company in the clinical stage. The company is committed to the research and development of novel CAR-T cells for the treatment of malignant solid tumors. Relying on the company's advanced immune receptor library technology platform, KATI has successfully developed a number of pipelines for CAR-T cells targeting malignant solid tumors, including DAP-CAR-T, Secretory CAR-T, VIVO CAR manufactured fast with low cost, TCR like redirecting signal, and dual-targeting CAR-T.
Nanjing KATI is founded by Dr. Wang Enxiu, a core member of the Carl June team, a pioneer in CAR-T immunotherapy. The University of Pennsylvania is the cradle of growth in CAR-T development. Nanjing KATI adheres to its pioneering and pragmatic style and is committed to the development and application of independent innovative cell therapies.
Since its establishment in 2017, the company has formed four new product matrices and dozens of product pipelines around the "recognition, activation, carrier, and process" of solid tumor cell therapy, and the most mature product pipeline has fully entered the rapid process of industrialization.
Innovation is the driving force of Nanjing KATI, and transformation is the way of Nanjing KATI's forward. Innovation and continuous innovation make new technologies and new products always at the forefront of the field; transformation and efficient transformation make new technologies quickly become new drugs that serve patients clinically!
Currently recruiting: CMC Director/Manager
Salary: Salary negotiable
Number of recruits: 2 people
Job Responsibilities:
1. Implement the company's strategic plan in the field of CAR-T therapy, coordinate and integrate internal and external resources and customer resources, arrange process research and development in the integrated project of new pipeline development, and be responsible for the production of viruses and cells for clinical and commercial cell therapy according to GMP requirements, CMC related content such as product amplification impurity standard establishment, formulation research and stability research.
2. Formulate the research plan and time node of the CMC research, and monitor the entire process and implementation of the CMC research.
3. Perform all tasks related to clinical product manufacturing according to batch records and SOPs.
4. Work closely with product science and quality departments to implement GMP operations.
5. Assist in the development of standard operating procedures, batch records, deviation and change control.
6. Solve process and equipment problems.
7. In the preclinical development stage of new drugs, communicate with CFDA and relevant review agencies in a timely manner, and listen to relevant opinions and suggestions.
8. Coordinate the on-site assessment and evaluation of CFDA.
9. Prepare relevant information and documents for the CMC part of the new drug clinical application materials.
10. Grasp the new progress in the CAR-T therapy industry at home and abroad, and pay attention to new technologies, new processes and new fields.
Qualifications:
1. Doctor of science or engineering related major, at least 2 years of relevant technical experience.
2. Experience in the development of biological drug CMC.
3. Experience in cell therapy products is preferred.
4. Master the pharmaceutical knowledge of biotechnology products, aseptic processing and cell culture products.
5. Experience in handling and culturing human primary cells (including T cells).
6. Strictly abide by SOP and GMP regulations, and be able to accurately complete documents related to clinical production.
Currently recruiting: Director/Manager of Drug Registration
Salary: Salary negotiable
Number of recruits: 1
Job Responsibilities:
1. Responsible for the management of government affairs related to the FDA, NMPA and other drug administration systems to promote the smooth progress of registration applications;
2. Responsible for submitting registration materials, and reviewing the completeness and comprehensiveness of registration materials to meet the needs of declaration;
3. Responsible for the drafting, revision and implementation of relevant SOPs of the department;
4. Research drug registration regulations, and master the procedures and requirements for drug registration and approval;
5. Collect and organize information on drug R&D policies, keep abreast of changes in drug registration policies, and maintain good contact with relevant departments.
Qualifications:

1. Bachelor degree or above, with more than 8 years of experience in writing and reviewing application materials , including more than 5 years of experience in new drug registration application; Those who are familiar with preclinical research related to pharmacology and other related preclinical research are preferred;
3. Familiar with drug registration regulations, systems, application procedures and requirements, familiar with ICH-related guiding principles, and have an in-depth understanding of drug production and registration regulations;
4. Good English listening, speaking, reading and writing ,fluent in speaking;
5. Have a strong sense of responsibility, good management and communication skills and teamwork spirit.
Currently recruiting: CRC
Salary: Salary negotiable
Number of recruits: 1
Job Responsibilities:
1. Assist researchers to complete various tasks in accordance with relevant national regulations, research programs, hospital and company SOP requirements;
2. Assist researchers to fill in case report forms, and assist researchers to complete the document collection, sorting and filing of the research center at each stage of the trial 3. Assist researchers to complete subject screening ,
enrollment, follow-up, etc., including subject recruitment, screening potential subjects, arranging subject visits, arranging laboratory examinations, obtaining examination results, etc.;
4 . 、Assist researchers in clinical trial management and related daily work;
5. Assist CRA in the central monitoring work, prepare various documents in advance for CRA monitoring, and report the progress of the research center to CRA in a timely and comprehensive manner;
6. Assist CRA, research The person completes the data Q&A in a timely manner;
7. Other work assigned by the leader.
Qualifications:
1. Majors in clinical pharmacy, nursing, college degree or above, those with clinical related work experience, and GCP certificates are preferred;
2. Familiar with the knowledge of clinical trial management practices and related procedures of clinical work;
3. Excellent communication and coordination skills and teamwork skills.
Currently recruiting: Cell Therapy Researcher
Salary: Salary negotiable
Number of recruits: 1
Job Responsibilities:
1. Virus packaging and titer determination to construct transient stable expression or stable expression cell lines;
2. Master hematopoietic stem cell and primary lymphocyte culture technology, and independently complete the work of isolating T cells from PBMC or umbilical cord blood for in vitro culture;
3. Cultivate tumor cell lines and immune cells, and related experiments include but are not limited to in vitro mixed lymphoid reaction, cell proliferation, cell killing, cytokine determination, flow cytometry detection, etc.
4. Literature retrieval and reading according to project requirements , develop and verify relevant Assays; 5. Be responsible for experimental animal models and in vivo efficacy experiments, analyze and report in vivo efficacy and safety related data.
Qualifications:
1. Major in immunology or cell biology, master or doctoral degree.
2. Master the culture of primary lymphocytes, have experience in culturing immune cells such as T cells, NK cells, and CAR-T, CAR-NK culture;
3. Master the relevant experimental skills of cell biology, including but not limited to plasmid transfer Infection, virus coating, stable transfection cell line construction, cell proliferation, apoptosis, immune effector cell in vitro killing experiments, ELISA experiments and high-throughput cytokine detection, etc.;
4. Proficiency in the use of analytical or sorting flow cytometry , Understand the principle of flow cytometry, be able to color-match multi-color flow analysis, be able to analyze flow data, and be proficient in using relevant analysis software such as FLOWJO;
5. Familiar with CRISPR system, including but not limited to gene knockout, gene Better experience in projects such as insertion, base modification, and transcriptome activation and inhibition; 6. Better experience in operating experimental animals, familiar with commonly used experimental animal strains, and establishment of related disease models, such as CDX, PDX models; mastering experiments Animal administration, material sampling, measurement of experimental indicators; master histopathology-related experimental skills, such as: tissue embedding, sectioning, H&E staining, IHC, ICC, IF, skilled use of fluorescence microscope, confocal microscope.
Delivery method: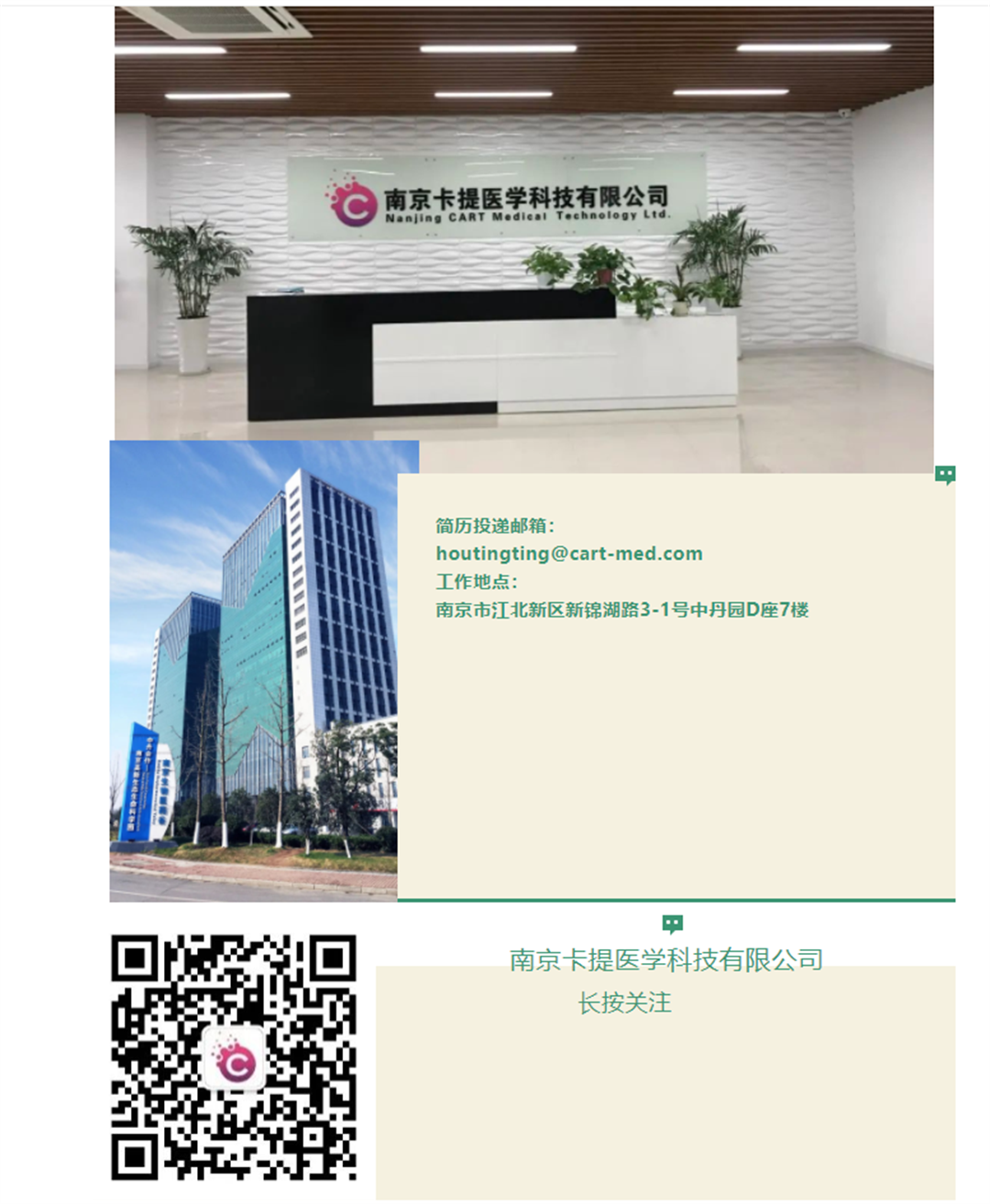 ---